National - 52" x 16-gauge Manual Stomp Shear, MADE IN USA, $3250, ID#NA5216S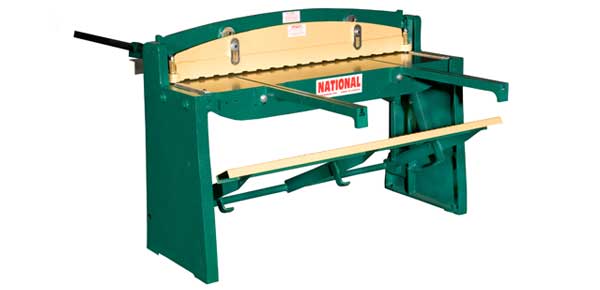 Metal Shears:
3 Year Warranty
---
National foot shears are designed for precise shearing through 16 gauge mild steel. This shear is also recommended for shearing aluminum, plastic, copper, brass and lead. All cast iron body with four cutting edge high carbon, high chromium blades, back gauges, table gauges, spring actuated hold down, front arm extensions, bottom treadle safety stop and full three year warranty.
Specifications
Model
N5216
Capacity
(Tensile Strength 55,000 lbs. @ rated capacity)
Mild Steel
16 Gauge: 1.6mm
Stainless Steel
20 Gauge: .9mm

Cutting Legnth
52"
1321mm
Shipping Weight
980 ibs
445 kgs
Floor Space w/ Gauges
61" x 75 7/8" x 42 1/4"
1549 x 1927 x 1073mm
Floor Space w/o Gauges
61" x 34 1/4" x 42 1/4"
1549 x 870 x 1073mm
We will get you a delivered price to your shop location on one of these USA made shear if you call us at

800-753-0393

or fill out the form below. YOU WILL BE PLEASED WITH THE PRICES. WE PROMISE!