National - 48 x 16-gauge Bench Top Brakes, ID#N4816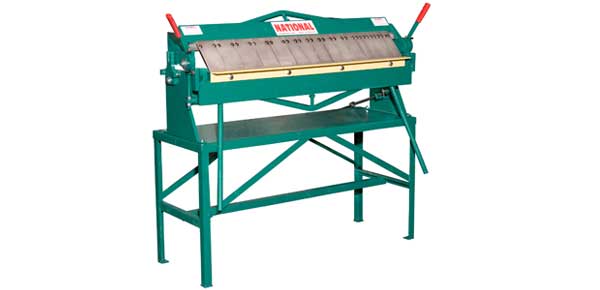 Bench Brakes:
3 Year Warranty
---
Simplicity of design allows these brakes to work in the most direct fashion. Easy to set up and operate. Body sections are welded steel plates, with heavy truss rods and braces for longer life and greater strength. These brakes are standard with extension handles, apron stop for repeat bends, and replaceable bushings at points of wear.
Specifications
Model
U4816
S4816
Stand
Capacity
(Yield Strength 30,000 lbs. @ rated capacity)
Mild Steel 16 Gauge
1.6mm
Stainless 20 Gauge
.9mm
Mild Steel 16 Gauge
1.6mm
Stainless 20 Gauge
.9mm
Maximum Lift of Beam
1 1/4"/32mm
1 1/4"/32mm
Finger Width
2" 3" 4"
51mm 76mm 102mm
Maximum Depth of Box
4"/102mm
Bending Length
48 1/4"/1226mm
48 1/4"/1226mm
Shipping Weight
500lbs/227kgs
1689 x 965 x 1372mm
470lbs/213kgs
2134 x 965 x 1372mm
100lbs/45kgs
Floor Space
54"x19"x271/4"
1372x483x692mm
Please call 800-753-0393 or fill out the form below for a delivered price on one of these fine brakes to your shop. Be sure to include the exact model to insure correct shipping rates. Thank you!